THE POWER BEHIND THE CHEF
On the 13th December 2014 the Allergen information rules changed. Since the new FIR rules came in, all food producers and retailers now have a Legal Responsibility to provide the correct Allergen information about the ingredients used in the food you make or serve to your customers.
Genius Nutricost offers the solution in a simple-to-use, complete Food & Beverage stock management system
Ensures automatic compliance with the New Allergen Information Rules across all of your recipes
Accurately records the Nutritional Data of each Recipe or Menu
A full stock management system for both wet and dry areas of the business
Purchasing capabilities via purchase order generation directly from your shopping basket
Your own Cookbook to keep recipes and method of production including photographs to ensure consistency
Menu creation and costing of each recipe with GP target alerts
Recording of consumption and evaluation of individuals food diaries (Healthcare, Leisure)
Payroll estimating and recording
Financial performance reports
Supplier trading history
Trial P&L
A new, versatile food & beverage stock management system – making the day-to-day administration less arduous so you can concentrate on doing what you do best.
Nutricost allows you to create a database for your menu, source your ingredients from a number of suppliers, and automatically highlight all fourteen allergens in each recipe to comply with UK legislation.
It also has the capability to estimate and order the ingredients you require for a specific period, meaning you are not left with a shortfall or surplus. These can be ordered, and tracked, in full or split packs depending on what you need – with automatically generated purchase orders.
A simple stock management tool
The process couldn't be easier: select from one or more suppliers, choose your required ingredients and view the current price per pack and portion. Get the quality you are after, at the lowest possible cost.
The database of ingredients available on the NutriCost system contains nutritional information for each food item. As well as being a point of reference, you will be alerted if any pre-set limits are exceeded, and you will be able to view allergen data for the selected ingredient or dish.
You can compile these ingredients and dishes into your own 'cookbook', making it quicker to arrange repeat orders. Each recipe within the cookbook can be personalised with instructions on how to prepare each meal, which can be accompanied by your own photographs.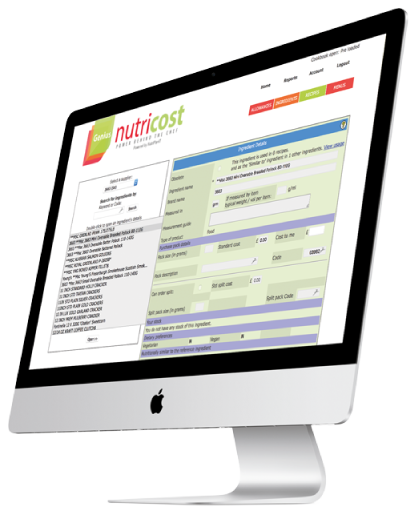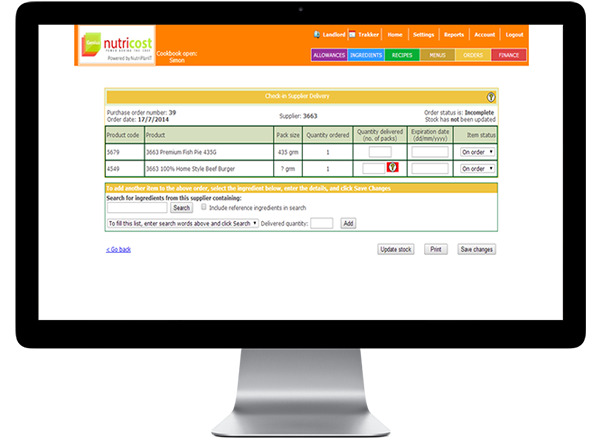 Order and track your stock
Replenish your stock by automatically generating orders based on your requirements, which are then grouped by supplier.
You will be able to expand an order to view each ingredient being supplied. Once received, simply update stock records within NutriCost to keep track of what you have stored onsite.
This need not be a process restricted to one individual; you can set up multiple users with different access levels to help manage your resources. You can then freely view and amend user access for all linked units, and view login activity for each individual.
This is a food & beverage stock management tool that dishes out everything that you need.
GET IN TOUCH WITH US TO FIND OUT MORE